These telephone ringer amplifiers possess a very loud ringer volume level, and a few are aggregated with a blinking light that flashes whenever a phone call is invited. These amplifiers possibly demand a mains powered adapter, or are operated via batteries, or just the phone. Ideal alerts for elderly folk.
01: Connected Essentials Telephone Amplifier For Hard Of Hearing CEA40
This universal flashing telephone 'amplifier for hard of hearing' and call alert is a line powered light and ringer device which plugs directly in to any BT type telephone socket.
It flashes and rings whilst the telephone is ringing, however is an ideal solution for the hard of hearing, or for use in noisy environments, anywhere indoors.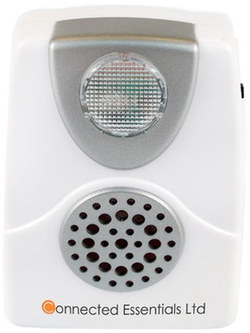 CE Amplifier For Hard Of Hearing
Bright Flashing Light Style With Compact Design
Capable Of Increasing Your Ringer To 95dB
Comes Supplied With All Accessories Needed
Connect To Wall Socket Fixtures And Fittings
No Mains Power Required - Full User Manual
Plug n Play With No Install Or Batteries Required
Plugs Directly To Standard BT Telephone Socket
Simple To Install And Use - Plug/Play Solution
There Is No Need For Any Additional Accessories
You Can Easily Position Amp As You Require
It can help ensure no calls are missed and is compatible with most telephones with a regular BT style line outlet and will not require additional leads or adapters.
User friendly, it simply plugs in to your standard telephone socket to produce a loud ring where the volume can be adjusted with flashing alert.
[Rating: 9/10] - £11 - Get It → CE Telephone Amplifier For Hard Of Hearing

02: BT 4-Tone Loud Phone Type Ringer Amplifier For Indoors Plug And Play
BT 4 Tone loud indoor telephone ringer with it's loud adjustable soud makes it ideal to recognise when your BT phone is ringing. It features an 'extra audible alert' if you are having problems hearing your telephone ring.
A choice of four different pitch settings and easy to change volume control and plug this additional bell in to a spare telephone socket.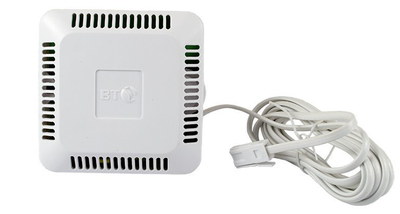 BT 4-Tone Loud Phone Ringer Amplifier
Choice Of 4 Different Pitch Settings + Volume
Compact And Lightweight Design For Indoors
Device Can Be Easily Positioned Out Of Sight
Indoor Ringer Does Not Require Mains Power
Requires Double Socket Adapter To Link Phone
Ringer Is Supplied With All Fixtures And Fittings
Simple Plug n Play Solution - Cable Length 3m
The Amplifier Ensures You Never Miss A Call
You can use a socket adaptor to plug it in beside your existing phone. Telephone lines usually have an (Ren) of 4, although they can operate up to four telephone products like fax or answering machines each with a Ren of 1. Compact and lightweight design, can be easily positioned out of sight.
[Rating: 9/10] - £23 - Get It → BT 4-Tone Loud Phone Ringer Amplifier

03: Geemarc Loud Amplicall Telephone Ring Amplifier And Alert System
When your landline rings, this telephone ring amplifier indicator will ring rather loudly at around 95dB, and will blink to let you know there's an inbound call. The Amplicall gives you choices of vibrant strobe and sound. You can purchase separately the optional vibrating shaker pad.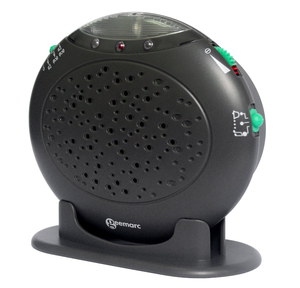 Geemarc Loud Telephone Ring Amplifier
7.5v Mains Adapter Purchased Separately
Can Also Be Linked To Second Ringer Alarm
Can Operate On Batteries 4 x AA Included
Different Alarm Options Off, Flash And Alarm
Extra Loud Up To 95dB With Volume Control
Extremely Bright LED Camera Flash Strobe
Optional Shaker - Optional Power Supply
Tone Control - LED Flash - 4 Alarm Modes
Tone Control Plus Visual Ringer Indicator
Wall Mountable Ringer With An LED Flasher
This is an ideal solution for deep sleepers who are expecting crucial phone calls at night-time. It can be linked to a second unit in order to extend it's range.
It's features include a high volume ringer up to 95dB, high volume plus a visual phone ring indicator and optional shaker. Also has been designed to alert you with an extra loud adjustable ringer.
[Rating: 9/10] - £17 - Get It → Geemarc Loud Telephone Ring Amplifier

04: Amplicom Ringflash 3 Mode Loud Phone Ringer 95dB Call Amplifier
The Amplicom ring-flash 'loud phone ringer amplifier' is ideal for users who suffer with hearing loss or work in noisy environments, as it has a bright flashing light and loud ringer for incoming calls.
The ring volume is adjustable and it also owns several melodies available to choose from. It is fully compatible with the PowerTel series and other telephones.
Amplicom Ringflash Loud Phone Ringer
3 Different Telephone Ring Tones Available
Delivers With An Extra Loud 95dB Ringer
Energy Efficient Power Supply Call Amplifier
Extra Bright Flasher When The Telephone Rings
Extra Loud Acoustic Signal Through Main Alarm
Fully Compatible With The PowerTel Series
Power Supply Telephone Connection Cable
Ringer Connection Port For PTV 100 Shaker
Simple To Connect Between Phone And Socket
User Manual + 3 Selectable Ringing Melodies
As a diverse device, the amplifier connects between the phone and the socket. For the hard of hearing, just set your hearing aid to the (T) position.
The Amplicomms call amplifier will provide a clearer sound without interference - while illuminating when calls come in with the extra bright flash indicator.
[Rating: 9/10] - £34 - Get It → Amplicom Ringflash Loud Phone Ringer

05: Medipaq Phone Amplifier For Hearing Impaired Rings Louder + Visual
Double output phone amplifier for hearing impaired offers flashing, with an easy operation - simply plug in to your telephone or fax line.
Designed for the elderly, the deaf or just the hard of hearing. It is also great in all noisy locations, such as garages, factory, office, shop, warehouse or just around the busy home.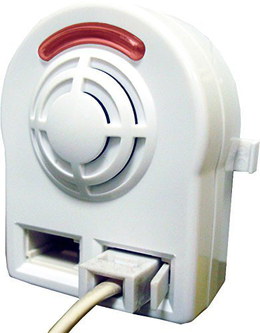 Medipaq Amplifier For Hearing Impaired
Amplifier Means Never Miss A Call Again
For Audio/Visual It's Best Of It's Kind
Functions Every Time There Is A Call
Great For The Elderly, Hard Of Hearing
Ideal When Enduring Background Noise
Phone Amplifier For Hearing Impaired
Rings Louder And Flashes Brighter
Twin Output - Plug In Two Phones/Faxes
Use It At Home, Office Or Workshop
The ringer volume amplifies louder than the normal ring, also an orange 'vivid neon light' gleams when the phone rings to signal to you. This is the perfect hearing aid with 2 outlets that allow 2 phones, or one phone and one Fax to operate together, great for the elderly or hard of hearing.
[Rating: 8.5/10] - £13 - Get It → Medipaq Phone Amplifier For Hearing Impaired

06: NRS Telephone Hearing Amplifier 85 Decibels When Phone Rings
Ideal for people with hearing impairments who struggle to hear the phone ringing. This compact, 50mm, 2 inches diameter loud hearing amplifier is complete with '2 port' adapter socket.
The smart white unit houses a loud 85dB bell, which will ring every time your phone does. Needs no batteries and has an on-off switch.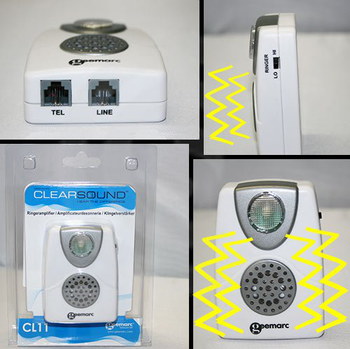 NRS Telephone Hearing Amplifier
Comes With A 2 Port Adapter Socket
For Difficulties Hearing On The Phone
Ideal For People Who Struggle To Hear
Instant Plug-In Operation Hearing Amp
Needs No Batteries - On/Off Ring Switch
Sounds 85 Decibels When Phone Rings
Will Ring Every Time Your Phone Does
You can bypass the amplifier if desired. No wiring required, comes complete for instant plug-in operation - simply unplug the telephone from it's socket, plug the ringer amplifier in it's place - and then plug the telephone back in to the socket.
Suitable for people who have difficulties hearing easily on the telephone.
[Rating: 9/10] - £14 - Get It → NRS Telephone Hearing Amplifier

07: S-Map RJ11 Loud Telephone Ringer Amplifier For Heavy Sleepers
This portable telephone with ringer amplifier sits between your phone device and the wall line to elevate the volume level of the ring. The RJ11 amplifier works nicely for inbound calls in noisy areas.
It helps those hearing impaired folks plus heavy sleepers, elderly people and assists those who just love wandering far from their phones.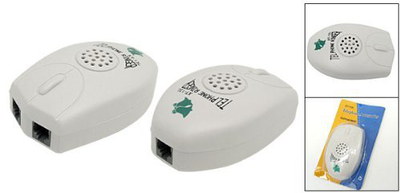 S-Map RJ11 Loud Telephone Ringer Amplifier
Boost Volume Telephone Sound Amplifier
Can Be Used In Noisy Places Perfectly
For Hearing-Impaired And Heavy Sleepers
Links Effortlessly With Your BT Telephone
Loud Volume 75dB - Item Weight 41g
No Another Cables Included For This Ringer
Ringer Will Give Out Clear And Loud Sound
Size 9.3cm Long, 5.5 Wide, 2.7cm Deep
Connect it the telephone line, so no other electrical power is needed. For installation, please connect the c and o line plug with ringer jack. The plug of the ringer connects effortlessly with the telephone.
[Rating: 8.5/10] - £4 - Get It → S-Map RJ11 Loud Telephone Ringer Amplifier

Phone Amplifiers For Hearing Impaired With Loud Volume Controls..
These telephone ringer amplifiers are small sized and elementary gadgets which noises a clear, loud signal when it experiences an inbound telephone call, creating a volume level of as much as 95dB.
The ringer amplifier is extremely leisurely to set-up - just run the wire that's provided from your phone to the ringer amplifier..