What Are Glass Suction Cups?
A glass suction cup is a tool used to suspend a windowpane or lift a glass sheet. It is appropriate for fastening to any flat, impenetrable surface and will hold fast with pressure if appropriately applied. The window suckers are produced using soft rubber and adhere to applying air pressured force.
Suppose part of your job description is to carry heavy metals or glass sheets, but you find it challenging to get a firm grip. In that case, there is a possibility to seek ways to solve this problem.
: Get The Job Done Proficiently
Fortunately, a glass suction cup can be used to help you get the job done without any complications. For you to get praiseworthy results, make an effort to search for the perfect suction lifter that meets your requirements - and will do the job.
: Glass Lifters Create An Air-Tight Seal
For the glass lifters to work efficiently, it has to satisfy three critical criteria, a.) It has to be shaped like a cup with a concave centre and spreading sides, b.) Must be perfect for sticking to flat, impenetrable surfaces, and c. It has to be made of an air-tight material.
: BOUSH Heavy Duty Suction Cup Glass Lifter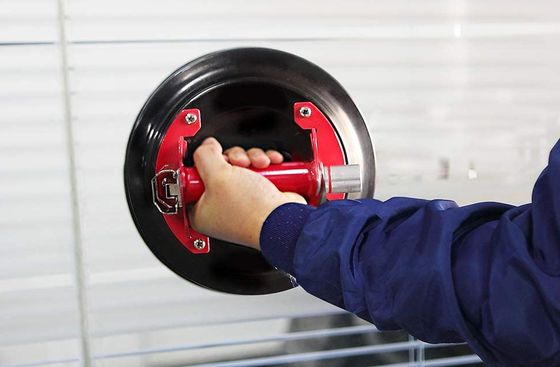 The Glass Suckers For Safe Window Transport
A glass with no genuine surface traction is not easy to grip and minimise the possibility of accidents. Still, suction cups are used to get that grip, all depending on the surface to be held.
: Glass Suckers For Heavy Windows
This tool is made of at least one suction cup, and it could be more. A vacuum is removed using a pump on the glass's body - and that does the trick. This glass sucker is used commonly for safely carrying large and heavier windows too.
The material used in making a glass table suction cup is rubber (not the hard but soft one) that air cant penetrate. Beneath the end of the cup is concave in shape, and it naturally holds air inside of it.
When you press the glass suction cup on a flat surface like a window, the air that is shut inside the concave area is pushed out of the cup's circular flap.
: Faithfull Aluminium Double Pad Suction Lifter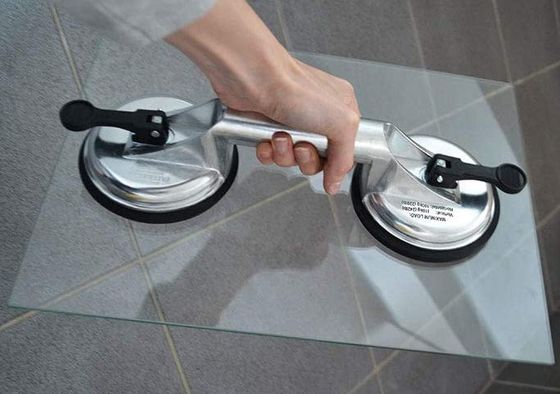 Just How Do Window Suction Cups Work?
It is advisable to learn the mechanism of window suction cups and understand how they work before you get into searching for diverse suction lifters. Because when you know how they work, it becomes a lot easier for building site workers to explore - and make that perfect choice.
: Suction Pad Lifter Positioning
Whenever you are ready to put your suction pad lifter to use, place it over the object, you intend to lift. The next thing you would do is to move the lever so that it holds the glass in position to prevent it from falling off and breaking.
: Glass Vacuum Lifter Pressure Creation
As soon as you have successfully fastened the device in position, the glass vacuum lifter will create negative pressure, thus making the movement of the item less stressful. Once the item arrives at the destination, you will have to pull the lever again to release the seal.
: GADLANE Dual Suction Cup Heavy Duty Lifter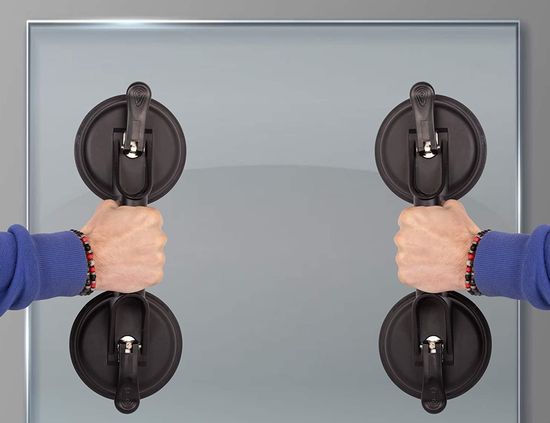 Heavy-Duty Glass Suction Cup Vacuum Tools
As air is forced out, it creates a vacuum, but it is normal for atmospheric pressure to 'equalise itself' and fill in any empty gaps with air. The pressure presses against the heavy-duty suction cup, and since it can't pass through the surface - it instead forces against the flat piece of glass.
If air finds its way beneath the edges of the suction cup or through the surface, it will break the seal, causing the suction cup to fall to the ground.
: Glass Suction Pad Load Capacity
When purchasing glass suction pads, the one factor you should not compromise is the load capacity. As we stated earlier, the general ability of these tools differs.
The full capacity mostly depends on the nature of the task the cup is used for. Since these handheld tools differ, you will get the perfect product that suits your needs.
Although you will find various kinds of suction lifters in the market, they may not be capable of getting the job done well enough.
: Purchase The Best Glass Gripper
Many people are perhaps hasty when it comes to purchasing glass gripper lifters, and they fail to check for the one best for their needs. In most cases, they just spend money and time to buy a product that solely achieves its single purpose.
: IMT Suction Cup Vacuum Mirror Window Lifter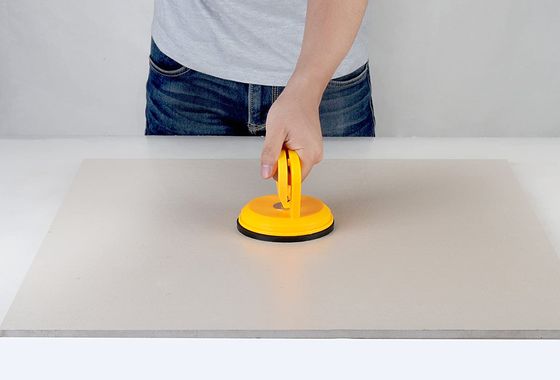 Important Glass Suction Cup Buyers Tips
Try not to cut corners and adhere to some essential tips, as they will help you make the right choice. The idea is to get an efficient product with the best user experience. Fortunately, most of these industrial-strength suction cups are user-friendly - as long as you have a clean, flat, smooth and impenetrable surface.
: Carrying Large Glass Panes Safely
Suction clamps are made with fitting handles that give you a firm grip. What's great is that these products come with a line indicator. This helps alert you in the event of vacuum loss. The ideal tool for carrying smooth glass tiles, 'glass panes' and other fragile materials is a suction cup.
: Double Cup Suction Lifters
A vacuum is created between the surface and the cup by the lifting suction giving room for you to carry the glass panel from its centre point. You can also pair double cup suction lifters before use to have extra control and weight distribution.
: Single Cup Or Double-Handle Tool?
Lifting glass suction cups come in two popular designs; single cups and double-handle cups. Like the name suggests, the double handle suction cup is designed with two suckers - and can carry more weight than the single-cup tool.
: Agnirame x2 Pack Industrial Vacuum Panel Lifters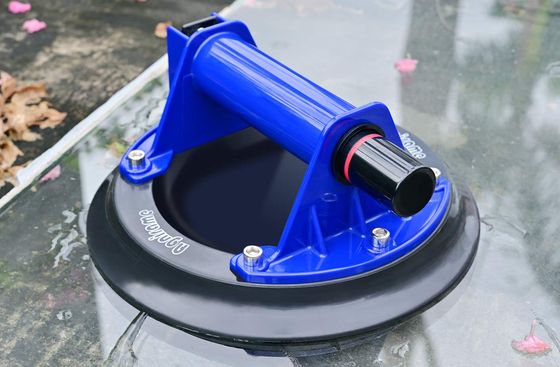 Checking Glass Suction Cups Lifting Capacity
If you are working with a curved surface, then the ideal air powered suction cup is the concave version because the vacuum could get lost with flat suction cups. Always check to see if the lifting cup you have selected has the perfect lifting capacity that you require.
: Handling Windows Or Huge Mirrors
The installation of glass for either house or car can be tricky. You ought to be very careful when handling the glass to prevent it from breaking. This same approach should be used when taking other delicate items - like large tiles and even huge mirrors.
: Window Suckers Need A Smooth Surface
To ensure you carry and move these types of delicate items with less stress, you need the right window sucker. All required is a flat, smooth surface, and handling these items would be so much easier.
: Durability Of Materials Used
Always be sure of the quality of the panel suction lifter you have chosen before you place the order. You do not want to pay for something that cannot be used for the purpose it was bought.
The best suctions cups have a quality aluminium alloy body and natural rubber pads; these are the materials that guarantee full efficiency and durability of the suction cups.
: SZILBZ Dual Suction Cup Glass Marble Lifter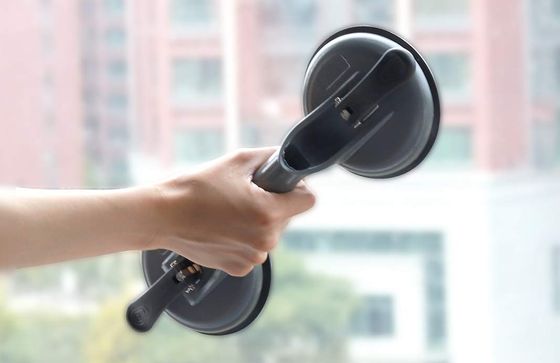 The Glass Suction Cup Handle Components
Pay close attention to the material used in making the glass suction cup you wish to buy because the safety and efficiency of the glass you are to lift really depends on. On that note, ensure you go for glass suction cups that are made out of quality materials like ABS and aluminium alloy frames etc.
: Suction Lifter Strength Qualities
Another factor to look out for when choosing a suction lifter is how strong it is. This is very important because if you get a suction lifter that does not have the required strength for the task, you might drop your metal or glass sheet, and this can cause injuries.
: What Weight Do You Want To Move?
So, before you decide on which suction cup for holding the glass to get, find out the weight of the items that you want to move - as well as how much weight each suction lifter can hold.
Remember to check the load capacity of the suction cup before you pay for it. This usually depends on the task you want to use the suction cups for, so always go for the product suitable for the job. You won't find it difficult making the right choice because most, if not all the glass suction cups have their different load capacities; just check.
: Jimdary Treble Suction Cup Glass Mirror Lifter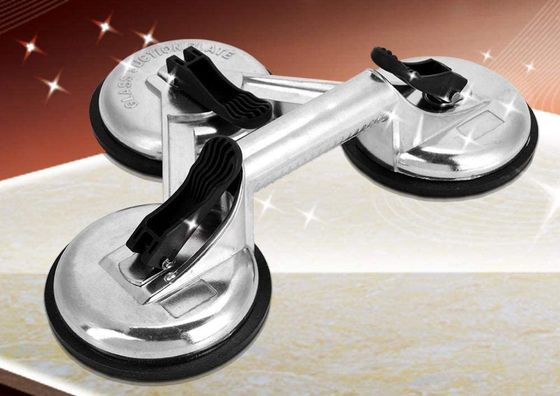 Buy The Best Suction Gripper For Dense Glass
When it comes to picking out and paying for the right suction lifter, the product's longevity has to be considered if you are to avoid accidents while using it. A suction lifter of low quality can snap during usage. It can either result in damaging the property or even hurting yourself.
: Avoid Accidents Or Damaging Materials
Instead of going for a cheap suction lifter pick-up tool that is of low quality, get strong enough to withstand pressure, so you do not have to stress yourself out at work.
When you think about the cost and damage that you will incur when a device fails, understand that the choice to get a durable suction lifter is a good investment in the long run.
Window Suckers With Industrial Strength Lifting
When choosing glass lifting handles, you should also consider their usability. The best type of glass suction cup to get is one that is efficient and easy to expend.
: The Perfect Padding Surface
Always check for the type of padding utilised on the suction cups. With the perfect padding, the surface or the paint will not be scratched. Ensure that the suction cup you choose has an indicator so that when the vacuum is lost, you would be notified.
: Materials Making Your Job Easier
Those who manufacture glass suction cups make use of different materials. So it is essential to know the type of material used in making the suction lifter you want to buy. If you buy one made out of heavy/weighty materials, your job will be a lot harder.
: Smandy Handheld Power Vacuum Lifter For Glass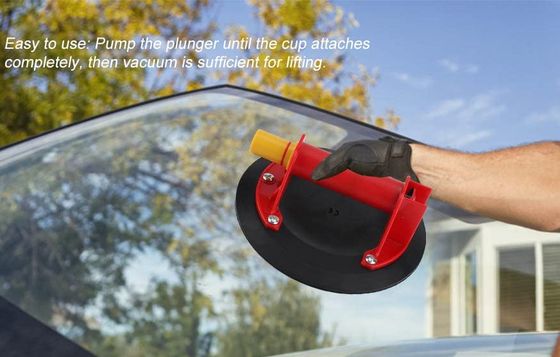 Glass Suction Clamps Price And Quality Issues
Conversely, get a durable material that is also light. You will be able to finish up the job efficiently. Suppose you are looking to strike a balance between price and quality. In that case, the best option for you is a suction lifter made with aluminium components.
: How Comfortable Are You Working?
For safe and easy lifting and moving of tiles, metals, aquarium glass, pane glass and the likes, you need a proficient glass suction cup. They are made so that you are comfortable using them, just like the ones that alert you when there is a loss of vacuum power from the indicator.
: How Many Cups In Suction Lifters?
The number of glass top dining table suction cups in a suction lifter varies depending on the suction tool type. Identify the task that you need in choosing the right kind of lifter. The higher the number of tool cups, the stronger the suction lifter and leverage you will enjoy.
: Shifting Large Glass Sheets Or Metal
Most suction lifters with single cups are best when handling small tasks. However, if you want to move a large sheet of glass or metal, your best choice will be three suction cups. You can purchase a unit with a dual suction cup feature for future purposes, perfect for several heavy jobs.
: Genubi Industry Window Sucker For Moving Glass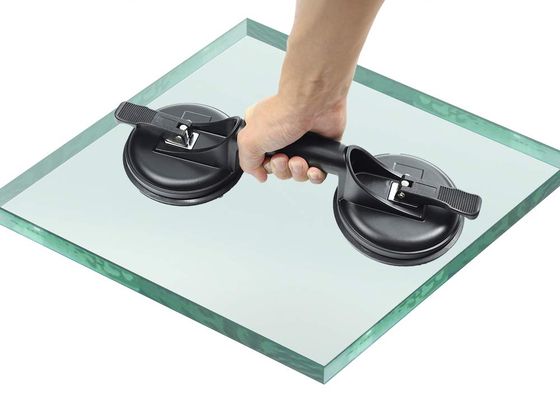 Strong Glass Suction Cup Tool Size And Weight
You obviously will not be using your strong suction cups all the time, which means you would have to think of a safe place to keep them. Yes, a large suction cup means more control and efficiency, but it will also require more space to store.
: Tool Measurements For Storage
If the delicate items you would be lifting are huge, it would be wise to get a large glass suction cup tool. Finding a storage case can be helpful, but you have to ensure it fits into the case with ease. Meaning, before you decide on which product to buy, check out the measurements of the product.
: Using The Suction Gripper Every Day?
A suction cup's grip is essential, if not the most crucial feature you should consider before purchasing any. Depending on the 'number of tasks' you have at hand, you may find yourself using the suction lifter daily, so it is advisable to get one with the best firm grip.
Furthermore, a handle that doesn't have enough resistance can make you drop items when moving. Nobody wants that to happen. Get a glass suction cup device with tiny ridges and perfectly fit your hands; this will make the job less stressful.
: Mwhotool x3 Dual Suction Cup Glass Lifter